Bearing Banners, a poem  by Mary Harwell Sayler:
Sometimes "we" are "they" –
those indecisive but determined
decision-makers
of policies, religion,
the arts, and all
political debates.
Admittedly, "we"
project "their" stance
of bias and intolerance –
our opinions lacking facts
except those that back us up
or keep us polarized.
Let's shock ourselves!
Let "they" be "we,"
and "we" be "they,"
as we lay down
our banners and agree
to come out of our corners.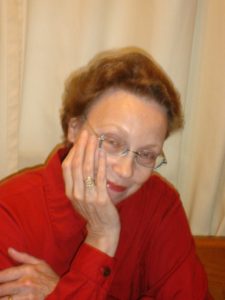 Mary Harwell Sayler
Mary Harwell Sayler writes:
"I've been writing poems and reading the Bible since childhood and, as an adult, studying the major English translations. As an ecumenical freelance and assignment writer for Christian and educational markets, I've placed 36 books in all genres with such publishers as Zondervan, Broadman, Concordia, Facts on File, Hiraeth Press, etc. I've also placed over 2500 poems, children's stories, and articles in magazines or journals; and have 3 e-books for poets and writers on Kindle. In 2017, Cladach Publishing released my contemporary psalm-poems, PRAISE! I also blog on poetry, writing, and a variety of Bible topics and just published What the Bible Says About Love."