Two parable prose poems by Mary Harwell Sayler:
Parting with Body Parts
Matthew 5:29-30
And Jesus said:
If your right eye causes you to sin –
get some pluck! Get some courage! Get determination, and
resolve to cast ills from you – no matter how strong the hold.
Isn't it more profitable for one part to perish than to have
your whole body cast into the hell of being lost from clear
sight of God?
And if your right hand causes you to sin –
cut it out! Isn't it more profitable to lose one member of your
group – even your right-hand man or woman – than to risk
letting your whole church body slip from the grip of God?
…
Patching Cloth and Bursting Wineskins
Matthew 9:16; Mark 2:21; Luke 5:36-39
And Jesus said:
New wine needs new wineskins
or, when the wine ferments and expands, the wineskin will burst
and spill the wine and ruin your robe and spoil a perfectly good
container. Yes, I know old wine tastes better, so losing a new
batch might not be a big deal, but we need the new before we'll
ever have anything old. Or think of it this way: If you sew a piece
of preshrunk cloth onto an aged outfit, you'll still have something
to put on, but if you make do by patching the new onto the old,
the cloth will tear, making your favorite shirt totally unfit to wear.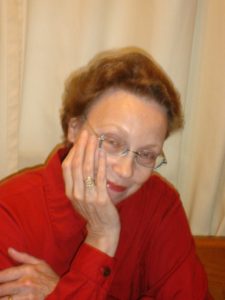 Mary Harwell SaylerMary Harwell Sayler writes:
"I've been writing poems and reading the Bible since childhood and, as an adult, studying the major English translations. As an ecumenical freelance and assignment writer for Christian and educational markets, I've placed 36 books in all genres with such publishers as Zondervan, Broadman, Concordia, Facts on File, Hiraeth Press, etc. I've also placed over 2500 poems, children's stories, and articles in magazines or journals; and have 3 e-books for poets and writers on Kindle. In 2017, Cladach Publishing released my contemporary psalm-poems, PRAISE! I also blog on poetry, writing, and a variety of Bible topics and just published What the Bible Says About Love."