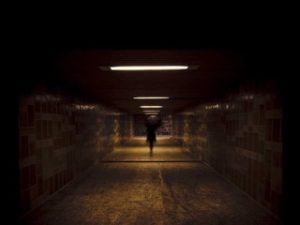 THE FINALE
(Or: Notes from Inside America)
by Fanny Garvey
Prologue.
There is only two ways this can go.
Either you learn of me because my profile is a trendy human-interest story used to sentimentalize what is happening here.
Like this:
"The victim was a writer whose work, though relatively unknown, until now, is extremely valuable and relevant in this, our time of collective sorrow, as it tells the story of her life using warning signs that we refused to heed."
Or this:
"The victim, of whom we had never heard of until now, was heard to cry out lines from an obscure poet called Lorca, as she fell to the ground, cut down by the hail of bullets that claimed dozens of other lives."
Or this:
"The writer is mourned by the community of peaceful people, in an obscure little hamlet somewhere away from the place where she was born, where no one opens fire on people just because they are angry, and this community that gave her shelter from the storm will fondly remember what she brought to their evenings of music, song and poetry, a gift they shall always cherish."
I do not know in which of these ways you would prefer to remember me.
The first two will no doubt bring me posthumous fame.
The last one will have me leave this world in obscurity.
As for me, I would prefer to go anonymously.
Yes.
Better you never know of me, or my writing, than you discover it, again, too late.