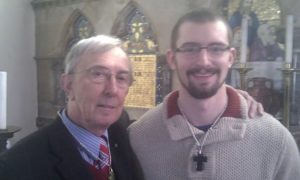 A "cruel, calculating" church warden is facing life imprisonment after he was found guilty of murdering a university lecturer following a sustained campaign of physical and mental abuse.
Benjamin Field, 28, was convicted on Friday of killing Peter Farquhar, 69, a retired teacher and part-time university lecturer, for his money, and trying to make his death look like an accident or suicide.
After protracted deliberations, Field was cleared of a charge of conspiracy to murder 83-year-old Ann Moore-Martin, a retired headteacher who lived a few doors down from Farquhar, and also acquitted of her attempted murder.
His co-defendant, Martyn Smith, 32, was found not guilty of murdering Farquhar at Oxford crown court. The magician was also cleared of charges of conspiracy to murder and the attempted murder of Moore-Martin.
Field, a Baptist minister's son, admitted to poisoning, gaslighting and defrauding Farquhar in order to get a better job and inherit his wealth when he died. He told the court he had also deceived and manipulated Moore-Martin in a similar way. While the 28-year-old accepted he had "psychologically manipulated" the pair, he denied any involvement in their deaths.
During the trial, jurors were told of Field's elaborate project of first befriending the individuals, who were vulnerable and lonely, then defrauding them by allowing them to think he was in a loving relationship with them, and encouraging them to change their will to benefit him. He then began a devastating campaign of physical and mental torture.
The Crown Prosecution Service said the case was like a "plot from a novel".
Field drew up a list of 100 future "targets", including his own parents and grandparents, the court heard. He told the jury the "100 clients" file was not just a list of future targets but of people who could help him.
The senior investigating officer, Mark Glover, said Field fitted the profile of a psychopath. "Cruel, calculating, manipulative, deceitful. I don't think evil is too strong a word for him."