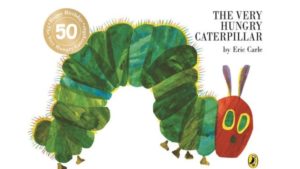 "In the light of the moon a little egg lay on a leaf."
It's probably one of the most memorable opening lines in children's literature, and this month The Very Hungry Caterpillar is celebrating its 50th anniversary.
The best-selling book which tells the story of a ravenous caterpillar eating its way through the week was first published in June 1969 and has since been translated into 62 languages.
Eric Carle, the New York born creator of the simple but everlasting tale, began writing children's books in his late 30s.
From his home in the Florida Keys, Carle told the BBC why he thinks the story has endured for five decades.
"For many years, my publisher and editor and I did not know the reason for The Very Hungry Caterpillar being so popular.
"But over time, I've come to feel that it is a book of hope. And it is this hopeful feeling that has made it a book readers of all ages enjoy and remember. For this I am very touched.
"I have been sent many letters and drawings from children. Some letters are profound.
"My all-time favourite was, 'Our teacher, Ms Smith, made us read all your books. Will you ever retire?'"