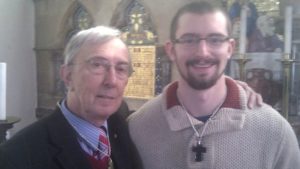 A man accused of murdering an author has told a court the way he treated the 69-year-old was "despicable".
Benjamin Field, 28, admitted drugging Peter Farquhar while he was fraudulently in a relationship with him to gain financially from his will.
The church warden said he drugged Mr Farquhar to "torment" him.
Mr Field denies the murder of Mr Farquhar and conspiracy to murder Ann Moore-Martin, 83, in Maids Moreton, Buckinghamshire.
Mr Farquhar died in October 2015, and neighbour Miss Moore-Martin in May 2017.
Giving evidence at his trial, Mr Field said he started drugging the university lecturer with benzodiazepines before switching to hallucinogenic legal highs.
He told the jury at Oxford Crown Court he did it "for no other reason other than it was cruel, to upset and torment Peter – purely out of meanness".
"What I did was completely unacceptable, despicable and wicked and in no way reflective of anything he had done to me," he said.